Welcome to the Gemma Stone Secure Client Area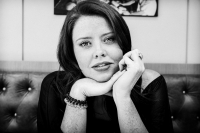 In my psychology practice I work with my clients to heal the past, love the present, and light up the future.

I help my clients with fear, anxiety, depression, healing trauma, establishing health habits, developing great relationships, navigating transitions, and creating successful mindsets.

Many of my clients work with me because I focus on aligning all levels of the mind - the conscious, subconscious, and unconscious. When your mind is aligned it's there is more ease and less resistance, more love and less fear, which ultimately makes it easier to live a healthy, happy, and successful life.

I am currently only available for distance therapy sessions via video, phone, or chat. If you'd like to contact me via phone, please call or text my office at 403-255-0898.
Log in to the secure portal. If you have not received an email with a username, please Register.